30-30 Winchester Ammunition     PRODUCT INFO
PACKAGE CONTENTS
Winchester Super-X ammunition has developed a reputation as being hard hitting and reliable.
This ammunition is loaded with Super-X Power-Points which feature a unique, exposed soft nose jacketed bullet design that delivers maximum energy on target. Strategically-placed notches around the jacket mouth improve upset and ensure uniform expansion for massive energy release
. This ammunition is new production, non-corrosive, in boxer primed, reloadable brass cases.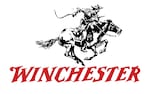 Made In United States of America
The .30 Winchester Smokeless first appeared in Winchester's catalog No. 55, dated August 1895. When chambered in the Winchester Model 1894 carbine and rifle, it was also known as .30 Winchester Center Fire or .30 WCF. When the cartridge was chambered in the Marlin Model 1893 rifle, rival gunmaker Marlin used the designation
.30-30 or .30-30 Smokeless. The added -30 stands for the standard load of 30 grains (1.9 g) of early smokeless powder and is based on late-19th century American naming conventions for black powder-filled cartridges. Both Marlin and Union Metallic Cartridge Co. also dropped the Winchester appellation, as they did not want to put the name of rival Winchester on their products.4
The modern designation of .30-30 Winchester was arrived at by using Marlin's variation of the name with the Winchester name appended as originator of the cartridge, but .30 WCF is still seen occasionally. This designation also probably serves to avoid consumer confusion with the different, yet similarly shaped .30-40 Krag, which has been referred to as .30 US and .30 Army.
Specifications
Product Information
| | |
| --- | --- |
| Cartridge | |
| Grain Weight | |
| Quantity | |
| Muzzle Velocity | |
| Muzzle Energy | |
| Bullet Style | |
| Bullet Brand And Model | |
| Lead Free | |
| Case Type | |
| Primer | |
| Corrosive | |
| Reloadable | |
| G1 Ballistic Coefficient | |
| Velocity Rating | |
| Country of Origin | |
The Winchester 1894 was used again in World War II in the hands of the Canadian Pacific Coast Rangers who were issued them to defend the west coast of Canada from Japanese invaders. Winchester '94s were also provided to the British Home Guard in the early years of WWII.
The Model 94 over its long history included the Winchester Model 55, produced from 1924 through 1932 in a 24-inch (610 mm) barrel, and the Winchester Model 64, produced from 1933 through 1957 in 20, 24, and 26-inch (660 mm) barrel lengths.8 From 1964 through 1980, a version of the Model 94 carbine was also sold by Sears as the Ted Williams Model 100, as part of Sears' marketing arrangement with both Winchester and the retired baseball star.
You must be 21 years or older to order ammunition. Ammunition must ship UPS ground. Due to safety considerations and legal/regulatory reasons, Ammunition may not be returned. Please check local laws before ordering. By ordering this Ammunition, you certify you are of legal age and satisfy all federal, state and local legal/regulatory requirements to purchase this Ammunition.