The 16″ barrel is machined from extra-strong 4150 carbon steel, with a hard Nitride finish that really resists surface wear. The BRN-180 is chambered in .223 Wylde – for extra flexibility in ammo choice – with 1-8″ rifling, so it handles both .223 Remington and military-type 5.56mm NATO ammo with equal aplomb.
Up front there's a replica of the AR-180's unusual three-prong flash hider: the hemispherical bottom prong helps prevent the muzzle blast from kicking up a dust signature when shooting prone. Standard ½-28 tpi muzzle threads let you swap on a modern AR-15 muzzle device should you be bitten by the customizing bug.
Ultra-reliable AR-180 piston operating system
Compatible with current mil-spec AR-15 lowers
Machined 7075 T6 aluminum receiver & handguard – hardcoat anodized finish
16″ barrel with matte black Nitride finish
.223 Wylde chamber
Button rifled bore; 1-8″ twist
½"-28 threaded muzzle
Replica 3-prong AR-180 flash suppressor
Molded polymer ejection port cover
Total weight: 4.65 lbs
The new Brownells BRN-180® and BRN-180S®, designed in conjunction with PWS and FM Products, incorporate many of the improvements found in the AR-18/AR-180 rifles originally introduced in the 1960s, including a robust, reliable gas piston operating system. Key features include:
Adjustable Gas System now on ALL models
Simplified, more secure Gen2 handguard attachment system (see below)
Ultra-reliable Short Stroke type piston operating system
Ideal for folding stock/brace (see below)
Compatible with ANY current mil-spec AR-15 lower
Machined 7075 T6 aluminum receiver & handguard with hardcoat anodized finish
Barrels of extra-strong 4150 carbon steel with a tough, matte black Nitride finish
Button rifled bore with 1-8″ twist
Replica three-prong AR-180-style flash suppressor
1/2″-28 tpi threaded muzzle (5/8″-24 tpi .300 Blk)
Molded polymer ejection port cover
All Gen2 BRN-180® and BRN-180S® upper receivers are fully compatible with any standard, mil-spec AR-15 lower receiver. Add one to your collection today!
BRN-180® Gen2 Videos
Fits Mil-Spec AR-15 Lowers: The BRN-180®/BRN-180S® is a complete, plug-and-play upper assembly that drops onto any standard mil-spec AR-15 lower.
Short-Stroke Gas Piston: Designed for maximum reliability, the short-stroke gas piston keeps fouling out of the receiver and helps the bolt run cool and clean. The entire piston system is contained within the receiver, so the BRN-180/-180S does NOT require the standard AR-15 recoil buffer, spring, and receiver extension.
Flash Hider: The 3-prong flash hider has the authentic look of the original AR-180, while also effectively reducing both muzzle flash and rise. The closed bottom reduces the amount of dirt and debris kicked up by the muzzle blast.
Adjustable Gas Block: ALL Gen2 BRN-180® models now have an adjustable gas block that enables you to easily dial in the correct amount of gas flow for suppressed OR unsuppressed shooting.
Simple Yet Rock-Solid Handguard Attachment: The Gen2 handguard is now retained by a single, large setscrew, a big improvement over the over the original BRN-180 uppers. Remove it with a hex wrench, and the whole handguard comes off. Once the 'guard is removed, you have access to the gas system without removing any internal components. This new system offers more than ample locking force to keep the handguard securely anchored.
Bolt Carrier & Recoil Guide Rods: True to the original, the bolt carrier rides on twin recoil guide rods for a smooth, light recoil impulse. The recoil system is completely self-contained in the upper.
Bolt: The BRN-180® bolt features a tough black oxide finish for easy cleaning and corrosion resistance. It's a classic multi-lug rotating bolt that ensures reliability and secure lockup.
Bolt: The BRN-180® bolt features a tough black oxide finish for easy cleaning and corrosion resistance. It's a classic multi-lug rotating bolt that ensures reliability and secure lockup.
Folding Stock or Folding Brace? Your Choice! Because the BRN-180's recoil assembly is contained ENTIRELY in the upper, there is no need for the AR-15's recoil buffer, spring, and buffer tube (you'll still need the tube for mounting a stock – unless you get one of our BRN-180® lowers). A BRN-180/-180S rifle/pistol readily accepts folding stocks and braces. And you can fire the gun with the stock/brace FOLDED!
Browlls, which is best known for distributing parts, gunsmithing tools and accessories, has recognized the popularity of retro rifles and responded with an entire line of Vietnam-era reproductions. One of its unique offerings is the BRN-180 upper receiver, which is interestingly enough not AR-10 or AR-15 but rather is patterned after Armalite's own competitor to the AR-15: the AR-18.
The AR-18 was designed by Armalite's dream team of Arthur Miller, Eugene Stoner, George Sullivan and Charles Dorchester in 1963. It was designed to be an economical alternative to their previous AR-15 design, and it was intended for foreign military sales. A semiauto version of the selective-fire AR-18 was also developed and marketed as the AR-180. Unlike their AR-15, though, the AR-18/AR-180 was not a success on either the foreign military or domestic commercial market.
Even so, the AR-18 and AR-180 were blessed with some great features. They were relatively inexpensive to manufacture using traditional methods, and they featured a simple short-stroke gas-operated system that proved reliable. Dual-recoil springs were contained inside the receiver, which allowed for a side-folding stock, plus the design was light, handy and easy to use. The bolt carrier assembly is simple to strip, and the basic operating system has been resurrected time and time again by other manufacturers.
Rather than trying to build a clone rifle or reproduction of the original AR-18/AR-180 Brownells decided to do something a bit different. It decided to build an upper receiver as it felt it would currently appear, and it is designed to fit onto a standard AR-15 lower receiver.
The receiver is machined from 7075 T6 aluminum—in contrast to the original's stamped sheet-metal and spot-welding construction. The result is much better looking and much easier to manufacture than the original. The flattop upper receiver has a 1913 rail for mounting iron sights and/or optics.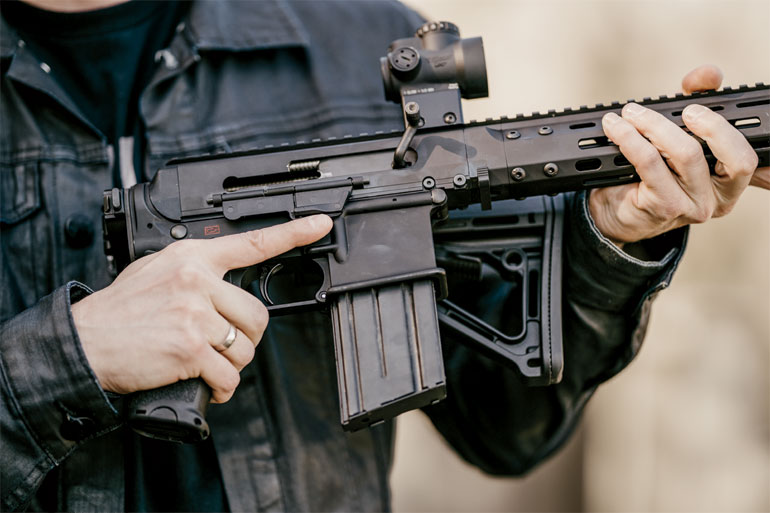 The 16-inch barrel is machined from 4150 carbon steel and is cut with a .223 Wylde chamber and 1:8 rifling. In place of the original's chrome-plated bore is a hard nitride finish. Barrel profile is fairly light, which helps to keep the weight down, and the barrel is tipped with a replica of the AR-180's three-prong flash suppressor—complete with its hemispherical bottom prong. Surrounding the barrel is a free-floating aluminum handguard with a 1913 rail at 12 o'clock and M-Lok slots at three, six and nine o'clock.
Riding inside the upper receiver is the classic AR-18/AR-180 style bolt carrier assembly. This features a multi-lug rotating bolt, and as I mentioned, the assembly rides on dual guide rods.
These horizontal guide rods feature the recoil springs, which unlike an AR-15 are contained within the confines of the upper receiver. Due to this, there is no need for a receiver extension or buffer like on an AR-15—so you can not only outfit your BRN-180 with a side-folding stock but you can shoot it with the stock folded, 1970-'80s action-movie style.
For this review I dug-out my favorite San Tan Tactical lower receiver, which happens to be fitted with a Law Tactical folding hinge assembly. The BRN-180 proved a slightly tight fit on this but not tight enough to be an issue. Next I added a set of Midwest Industries new combat rifle sights and a Burris AR-332 3X scope.
BRN 180
One thing to keep in mind when selecting optics for use on the BRN-180 is the dogleg charging handle. It angles up close to the 1913 rail on top of the receiver, and due to its placement, optics and mounts with locking hardware on the right side may prevent operation of the reciprocating charging handle. Just something to keep in mind.
The BRN 180 feels decently balanced and just a trifle light toward the muzzle. The handguard is comfortable, and the light barrel profile makes the piece swing quickly from target to target.
Brn 180
While the right-side-mounted reciprocating dog-leg bolt handle is a throwback, on the plus side you can put your boot to it to jack the bolt open if needed. The downside is it's hard to reach, especially with an optic mounted—unless you are left-handed.
Recoil is fairly mild, and the muzzle stays flat, facilitating fast follow-up shots. The recoil impulse with 55-grain ammunition doesn't feel much different from a standard AR-15. Ejection was to four o'clock, with the fired cases going approximately four feet.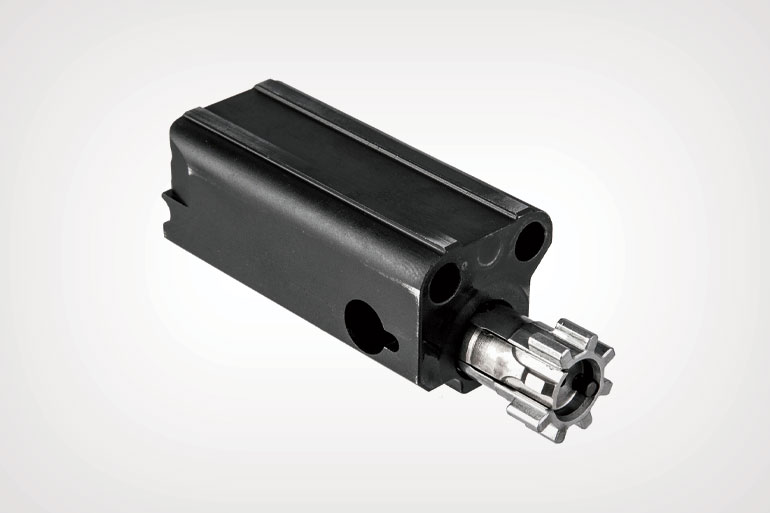 Because the BRN-180 fits onto an AR-15 lower, you can use standard AR-15 magazines rather than having to hunt for original AR-180 mags, and the bolt locks back on the last shot.
Accuracy both from the bench and from position proved quite good. Better still, the BRN-180 proved fun on the range. I ran it through drills inside 50 yards, shot it offhand on steel at 100 yards, and kneeling, sitting, prone and off barricades and a tank trap out to 500 yards.
BRN 180
The BRN-180 strips easily for cleaning. Pop the pivot pin, tip the upper and draw the dual recoil springs and their guides straight out of the back of the receiver. Pull the bolt to the rear, withdraw the charging handle and the bolt can be dropped out. The bolt strips easily without tools.
BRN 180
With the bolt guides removed you can remove the U-clip that retains the handguard. Removing this gives access to the gas system. Again, this is easily taken down. Because this is a piston-operated system, the receiver and bolt carrier assembly remains quite clean compared to a direct-impingement AR-15. Also, the BRN-180 comes with two piston cups allowing use both suppressed and unsuppressed.
BRN 180
Brownells BRN-180 is an interesting take on what a modern AR-180 would have evolved to look like. Will it satisfy the purist looking for an exact AR-180 reproduction? No. bit on this world awash with fire sale priced AR-15s of dubious pedigree Brownell's BRN-180 is a nice option.
Type: Short-stroke piston-operated semiautomatic
Capacity: 25-round detachable box magazine
Barrel: Nitrided 16 in., button rifled 1:8 twist; threaded 1/2×28; 3-prong flash suppressor
Overall Length: 32.7–36.7 in.
Weight: 4.6 lb.
Receiver: 7075 T6 aluminum; flattop w/1913 rail; reciprocating charging handle; polymer ejection port cover handguard 7075 T6 aluminum, free-floating, M-Lok
Manufacturer: Brownell
Brn 180